When installed on your own home, timber screens can provide a refreshing look to your property while still offering a lot of functional benefits. But aside from houses, this sustainable building material can also be used in cafés and restaurants.
In fact, the addition of timber screens in your commercial properties could prove to be a wise investment. They are durable, versatile, and come at a relatively cheap price. Moreover, they add visual interest to an otherwise boring space which can entice customers to come back and visit again.
Ready to incorporate them in your building but unsure of how to maximize their full potential? To guide you, here are 7 modern timber screening ideas perfect for cafés and restaurants.
7 Modern Timber Screening Ideas to Enhance Cafés and Restaurants' Interior Design
1.     Spice Up Boring Walls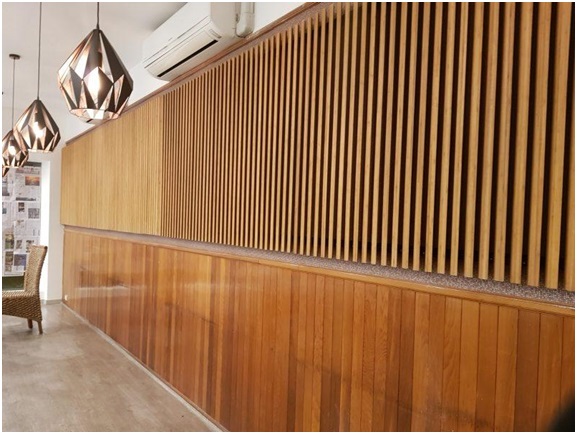 Image Source: House of Bamboo
Most cafés and restaurant owners usually decorate their spaces with plain, concrete walls to let guests focus on the food or beverage itself. However, you should know that interior decor is also just as important to enhance the overall customer experience.
So in order to jazz up your otherwise boring (and not to mention, dated!) wall decor, take advantage of timber screens and add them to your interior design. Their vertical design offers a unique and natural ambience—perfect for get-togethers and reunions that usually happen in cafés and restaurants.
Tip: Want to enhance your walls even more? Consider putting up artworks. But don't worry about it not fitting the design scheme of your walls as timber screens are versatile enough to complement these creative pieces.
2.     Unite the Kitchen and Dining Area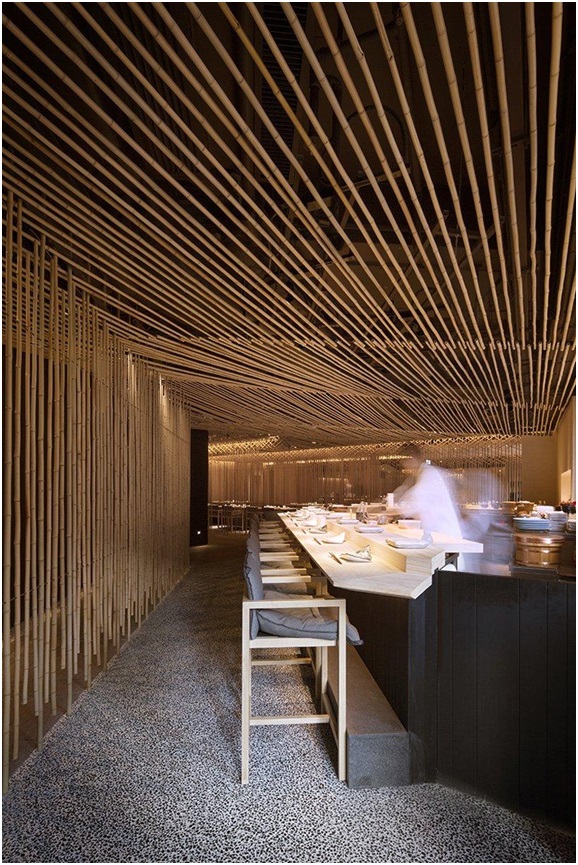 Image Source: Design Boom
In the past, every café or restaurants' kitchen and dining area are (almost) always entirely separate. Nowadays, more and more establishments are using an open floor plan and you should do too for good reasons!
By uniting both the kitchen and dining area, you can invite people closer to your food and how you make them. This would get them talking and interested to learn further. And the more they know, the more likely they'll spend more on the food and experience. However, use the wrong building material and you've just done the opposite—separate the area.
Fortunately, with timber screens, you can easily make the kitchen itself part of the decor as their open-slatted design gives off the right amount of openness that your customers would appreciate.
3.     Provide Separate Dining Spaces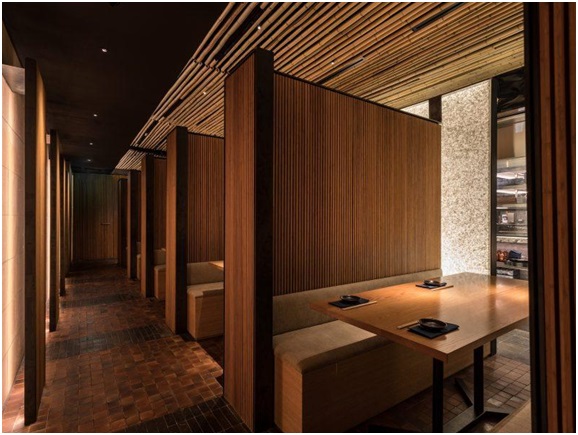 Image Source: House of Bamboo
Open floor plans don't mean you have to compromise the privacy of your customers.
As a café or restaurant owner, you should always keep your guests' comfort in mind. And while open kitchen spaces could make some people happy, expect that others would not feel the same way. That's why it's recommended to provide separate dining spaces as well but make sure it doesn't "close" off the entire interior space.
In order to get the best of both worlds, consider using timber screenings. They can provide enough privacy for a couple or a family while still letting light in. This ultimately results in a separate area that's not necessarily disconnected from the rest of the café or restaurant.
4.     Grow Some Plants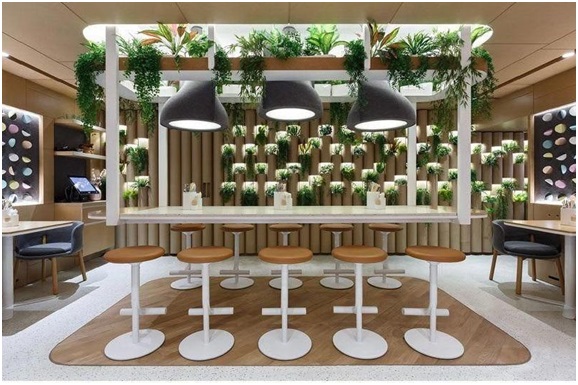 Image Source: Pinterest
Growing some plants to compliment the timber screens in your café or restaurant is a great way to enhance the overall ambience of your establishment.
With timber screens, you don't need to worry about the plants not "pointing up" or growing accordingly unlike other construction materials. This is due to the fact that timber's open-slatted design allows plants to breathe and thrive.
So feel free to use a lot of flowers (such as bougainvillea, hydrangea, and jasmine) and climbing plants (including grapevine and rose) to elevate your interior design. By doing such, not only are you providing a relaxing attraction to your property but you are also making a visual connection about the freshness of the ingredients you use.
Tip: Growing some plants (especially indoors) can be quite hard to maintain, though. If you're looking for low-maintenance options, you can opt to use air plants to bring the outdoors in.
5.     Reuse as Timber Furniture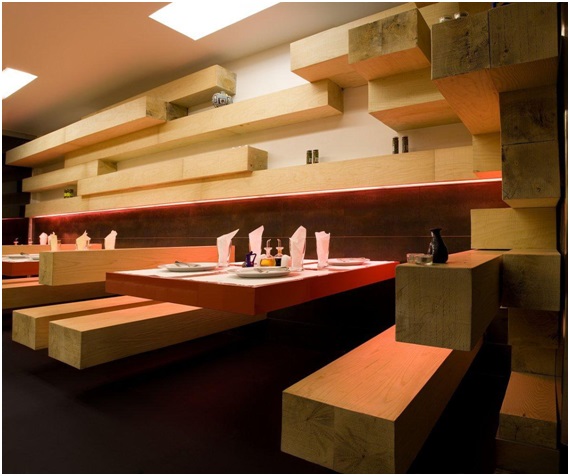 Image Source: Pouted
While timber screens are far more durable than wood counterparts, they are still prone to ageing which eventually leads to a faded appearance. However, since they are sustainable building materials, you can actually use them again! And what's a better way to repurpose timber screens than using them as furniture?
Feel free to recycle them as tables and chairs. However, opt to go the extra mile as unique seating is always a differentiator in the food industry. Mix and match different booths and stools to liven up the environment.
6.     Don't Forget the Ceiling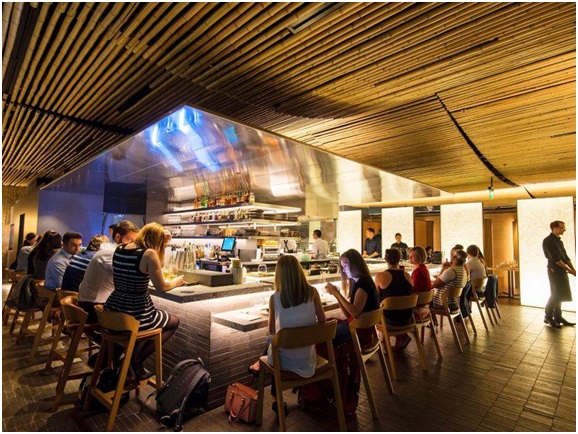 Image Source: House of Bamboo
Do you own a small café, restaurant, or bar? Don't forget to pay special attention to your ceiling!
It's an often forgotten area when it comes to interior design but it has the power to completely transform your space. If you want to create the illusion that your space is much bigger than it actually is, go with a lighter ceiling that timber screens can provide. However, if your goal is to provide a more intimate setting, opt to use darker-hued timber instead.
7.     Stick to a Theme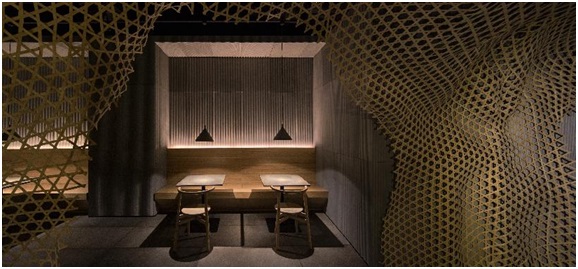 Image Source: Design Boom
When it comes to the food and beverage industry, having a theme—and sticking to it—can set you apart from countless competitors.
In doing so, make sure to avoid a theme that is too trendy as it can dwindle down in just a couple of years or months. Instead, opt to pick something that would reflect your menu and overall brand image.
For instance, if you run a vegetarian restaurant, it's best to design the interiors with equally environment-friendly materials such as timber screens. Don't forget to grow plants for added decor! Or do you own a bookstore café? You can perfectly build a cosy environment with timber screens.
It's all about creating the right mood for your establishment so that your guests would be enticed to come back. And who knows, they might even tell their friends about your food which ultimately means more customers!
Timber screens are definitely a wise investment for your home with their many functional purposes. However, they are just as good of an addition to your cafés and restaurants. They provide a unique look but are still versatile enough to fit any theme you might have in mind. Furthermore, they are extremely durable and come at a low cost compared to other construction materials.
Author Bio:
George Katsoudas is a Digital Marketing Professional who works as the Managing Director of Low Cost SEO, a digital marketing firm in Sydney and a Digital Media Manager for House of Bamboo, offering Australia the most varied collection of classic and new natural materials.
Company Bio:
House of Bamboo is Australia's trusted source of eco-friendly and high quality natural materials that can be integrated into contemporary setting. Our range encompasses high quality bamboo fencing, timber screens, privacy screens, decorative screens, ceiling panels, rattan cane webbing, fence panels, and pool certification.